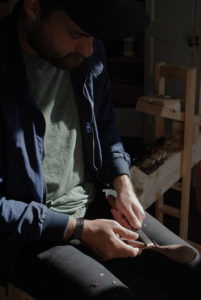 My name is Ashley Joseph Martin. I was born February 21st, 1992 in the city of Pittsburgh, PA. I was raised in the small town of Prosperity, PA, in a large and caring family. The rural environment there laid the foundation for a profound relationship with nature which continues to influence both my work and personal philosophy. 
My introduction to woodworking began when I received my first pocket knife. A gift from my father. The influence of that small knife will stay with me throughout my life. I have since been primarily self-taught and believe in learning from each failure as much as each success. Each new experience has made me realize how much one can accomplish with a few tools, and plenty of patience.
I was educated at Ohio University in Aviation and Meteorology. Post graduation, I moved to Columbus where I worked for a short time as a flight instructor at the Ohio State University Airport. Currently I work part-time at The Bottle Shop ("Best cocktails in town" -Everyone), and full-time as a craftsman. My current goal is to focus my efforts on my craft, develop my skills as an artist, and improve myself as a small business owner.
Ash Woodworking Company is a manifestation of my desire to push myself creatively. I began this endeavor to learn something about myself and hopefully improve my creative skills in the process. 
In my experience, creative ingenuity thrives in a scenario with limited recourses. I strive to do more than seems possible with what materials I am given rather than seeking ways to reduce the labor involved. I believe this is a relevant and applicable skill considering today's ever changing environment. I have made it my mission to apply this simple philosophy to my work and personal life. Hopefully this will inspire others to do the same. 
Be sure to follow my evolving story via Instagram and Facebook, and check out what I have for sale in the shop section of this site.
-Ash